AddSecure IRIS-4 IP/4G terminals
Eine Alarm over IP-Lösung, die nach der höchsten EN54-21 CPR Akkreditierung für eine zuverlässige Feueralarmübertragung zertifiziert ist.
AddSecure verfolgt ein striktes Qualitätsmanagement und ist bestrebt, bei der Zertifizierung seiner Produkte wie EN, VdS, SBSC, INCERT, NFA2P, KIWA-NCP und anderer an vorderster Front zu stehen. Die AddSecure-Produktzertifikate helfen den Installateuren und Benutzern der Geräte, die vollständige Einhaltung der Vorschriften des örtlichen Versicherers nachzuweisen.
Die EN54-21 CPR Akkreditierung erkennt die Terminals IRIS-4 400, 420 und 440 als zuverlässige und sichere Alarm-over-IP-Übertragungslösung für die europäische Brandschutzbranche an.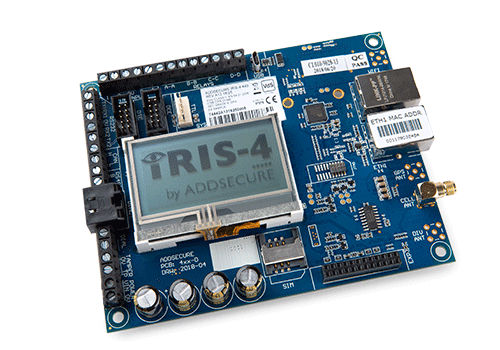 The IRIS-4 4 Series
The new IRIS-4 4 Series is suitable for use in existing enclosures and connects to any alarm panel, offering a highly flexible choice from Grade-2 to Grade-4 signaling options.
Touch screen for easy deployment

Full flexibility - connects to any alarm panel

High speed Bus Interfaces

Full VoIP and SIP services
IRIS-4 4 Series