Looking for a packaged solution for Fleet Management?
- Manage your fleet and your drivers efficiently through NavTruck
The standard solution for trucks
NavTruck is a packaged solution for professional users providing a complete set of Fleet Management services to manage your vehicles and drivers in an efficient way. It includes a wide range of useful services for the drivers and the office team. A telematics device is connected to the vehicle (through FMS), gathering all the key data from the truck that is needed for optimization of your business. The drivers access the system via a 7' screen in the cockpit (optional), and the office team is connected through a user-friendly web portal.

Trusted by





All services required to optimize your business are included in NavTruck

Web-Portal
Verwalten Sie Ihre Flotte im übersichtlichen Webportal. Die Auswertungen sind hier zu finden.

GPS Positioning
Exakte Positionsbestimmung der Fahrzeuge aufgrund von GPS Ortung.

Historical routes
Lassen Sie sich die aktuellen Positionen Ihrer Flotte auf einer Karte darstellen.

Driving Times
The driver's driving times are displayed. The remaining driving time is calculated and displayed.

Remote Tacho Download
The automated reading of the digital mass storage of the vehicle is made possible. The data is saved as a file in the portal.

Address
Address management in the portal. The addresses are shown on the map in the web portal and the navigation also shows them as a destination in the web portal.

FMS Module
FMS data of the vehicle can be displayed in the portal. This includes e.g. the fuel consumption, engine speed, mileage and operating hours.

Trailer Identification
Automatic Trailer Coupling. An AddSecure SenseTag must be installed on each trailer for the system to work.

Expenses
The expense module automatically calculates the expenses incurred for the individual employee.

Mobile view
With the mobile view, you can also display the portal on mobile devices. For this purpose, the display is optimized for smaller screens.

Eco-Driving
Driving style assessment module. A grade is calculated based on the data from the use of cruise control, engine running and speed monitoring.

Toll
Automatic calculation of the toll costs incurred on the basis of the vehicle's GPS positions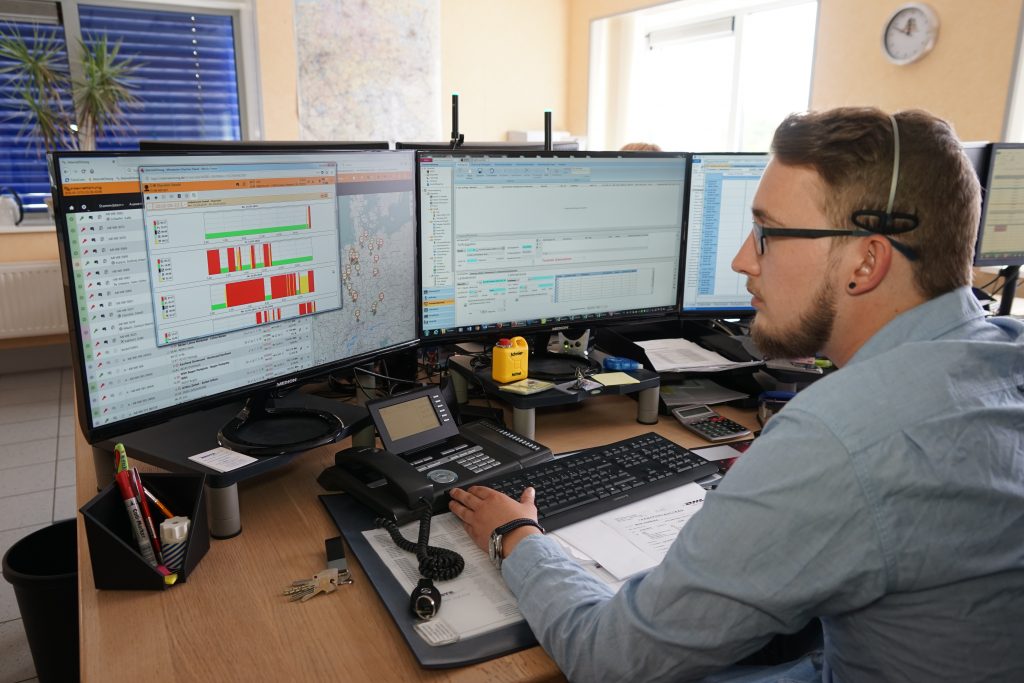 "I was looking for a packed solution to manage my trucks and my drivers. The NavTruck solution from AddSecure well matched my needs and helps me to save time and improve my customer service."
Hans Rohel, Geschäftsführer, Rohel Transports GmbH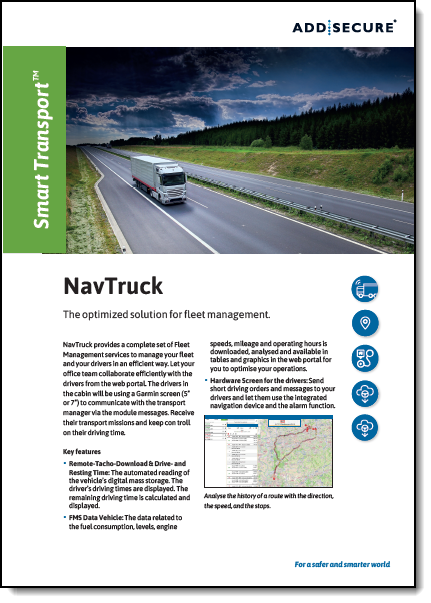 Download our product sheet
Get to know NavTruck! Download our product sheet where you find more information about our NavTruck solution.
Download NavTruck Product Sheet
Read more about our other solutions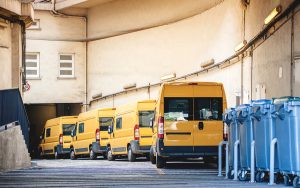 Get full control of your vehicles and resources through NavBasic! It is a smart package for owners of light commercial vehicles who want to easily…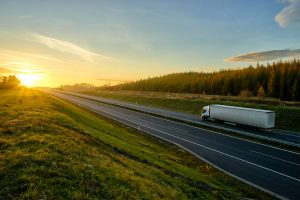 NavPro -The complete solution for demanding transport companies, helping you to automatically deliver the required level of customer service at the lowest possible cost.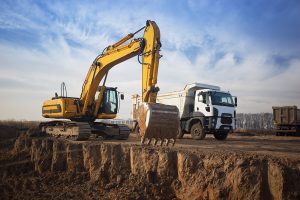 Get full control of your construction machines and resources now! NavBasic IPX: GPS Tracking of your construction machines